Visual Studio 2017 underlining all MVC code in red even though it builds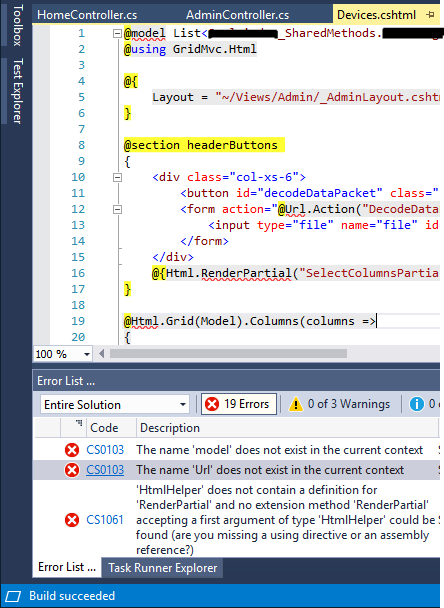 This project builds fine, but in VS 2017 it shows a lot of errors, which is counterproductive for developers.
The following is a reduced set of instructions from the long-titled Microsoft article, How to Upgrade an ASP.NET MVC 4 and Web API Project to ASP.NET MVC 5 and Web API 2
Fixing MVC Version references
You might not think you upgraded the project from an older MVC version. In our case, I assume that either the previous developers of this project did it at some time, or VS mucked it up all by itself (not unheard of)
We didn't have a Web API component to the system, so it was just MVC that needed work.
To find out your MVC version, in Solution Explorer: expand References, find System.Web.Mvc, right-click, Properties, and find 'Version'. Mine is 5.2.3.0.
Fix the application web.config
Find all references to System.Web.Mvc in this file. Their bindingRedirect configurations should all look something like this:
<bindingRedirect oldVersion="0.0.0.0-5.2.3.0" newVersion="5.2.3.0" />

For System.Web.Helpers, System.Web.WebPages, it should be:
<bindingRedirect oldVersion="0.0.0.0-3.0.0.0" newVersion="3.0.0.0" />

That bit didn't actually affect us. The only bit we needed to change was in <appSettings>, the webpages:Version should be updated to 3.0.0.0:
<add key="webpages:Version" value="3.0.0.0" />

Fix the Views/web.config
This had more problems to fix in my instance:
As above, change all instances of Mvc 4.x to 5.x according to the version used in your project
In the sectionGroup part, change all lines with System.Web.WebPages.Razor from 2.x to 3.x
Finally
Once you have done all this, close Visual Studio. Reopen it, clean, and build. This should fix your problems!
For more info, check out the following SO question; Visual Studio MVC 5 shows error but compiles and runs okay.
Hope it helps :)